intensive peel with Microcristals for a softer, smoother and youthfull skin
Microdermabrasion is one of the most effective ways to maintain healthy skin that feels as good as it looks
Good skin starts at the cellular level,
and Microdermabrasion is arguably one of the most popular, time-proven methods of consistent skin care that dramatically improve skin tone and texture … even after just one treatment!
Canditates for a Microdermabrasion / Custumors with:
acne scars / age spots / enlarged pores / fine wrinkles / tired and stressed skin and more
TIP: combine it with soft or microneedling or / and  ultra sound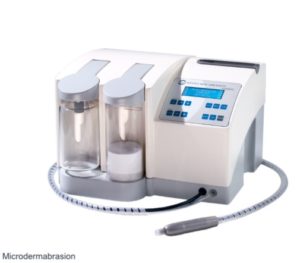 What Is Microdermabrasion ?
Microdermabrasion is a non-chemical, non-invasive procedure that uses a
spray of microcrystals to remove the outermost layer of dry, dead skin
cells and reveal younger, healthier-looking skin. Microdermabrasion also
encourages the production of a new underlying layer of skin cells with
higher levels of collagen and elastin, which further improves your
skin's appearance.


Good to know:
It is a pain free treatment.
Your skin will feel soft and fresh immediately.
You will see a fantastic result right after your treatment and then again 3 to 5 days later.
Even though your skin will not be red or iritated, you should still stay out of the sun for at least 8 days and wear a sun screen.
How does it work?
This gentle technique is performed with a jet of fine medical-grade
aluminum oxide crystals that are projected across your skin. When the
crystals make contact with the skin, they remove the outer dead layer.
The vacuum pressure simultaneously removes the crystals and dead skin
cells delivering them into a waste collection unit. This stimulates
blood flow to the surface of the skin increasing the oxygenation,
causing the enhancement of cell renewal and collagen regrowth. The
massaging action of the treatment creates a flushing and cleansing
effect below the skin surface resulting in a vibrant, healthy appearance
and complexion. As an adult your skin cells replace themselves
approximately every 28 days. While undergoing microdermabrasion those
skin cells get replaced much quicker resulting in new skin cells coming
up to the surface much faster
For those struggling with mild to
moderate acne, Microdermabrasion can be a monthly preventative treatment
that is worth every penny. If you're noticing premature signs of aging
such as skin discoloration and sun damage, Microdermabrasion is a
preferred way to gently buff away dry and damaged skin. Or, if you are
otherwise happy with the condition of your skin, but are looking for a
monthly "refresher," Microderm offers a winning combination—The
rejuvenating benefits of a facial, along with the renewing qualities of a
deep facial scrub.
Simply put: Microdermabrasion is one of the most effective ways to maintain healthy skin that feels as good as it looks

The effect:

Clinical studies prove:

The skin becomes finer pored and significantly more elastic
the firmness of the skin increases
the depth of fine wrinkles decreases
deep effects through activation of the skin's own collagen and elastin production
active ingredients are better absorbed by the skin

Do not hesitate, convince yourself of the immediately visible effect of microdermabrasion and make an appointment.

You will see it immediately and you will be thrilled!