What is micro needling all about?
We use an electric needling pen to consciously make selective little punctures in the skin membrane.
This prompts cell division to happen at a faster tempo which results in the skin structure being built up and
strengthened. Because of these newly developed microtubules, the skin is then particularly receptive to accept the valuable active ingredients given during this process. This formation of new skin cells, collagen and elastin fibers results in a visible firming and toning of the skin.
A skin-specific mask has a soothing, nourishing and cooling effect. These active ingredients are now additionally pressed deep into the cell membranes with the Oxipulse (oxygen and 2 bar pressure).
It is not only a pleasant feeling and enhances the effect, but also supports the healing process. Experiences show that the skin redness is only miminal directly afterwards. In addition, ultrasound with LED light pulses may be recommended.
The feelgoodsalon is the only place where you can find this perfect combination of treatments for skin cell rehabilitation. We combine the rehabilitation effects of needling, with the external application of hyaluron serum to get the benefits of the supply active ingredients and internally by the benefits of an increased oxygen supply to these areas.
We feel that this is the best that could happen to your skin.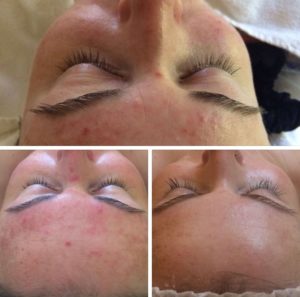 Details of the treatment procedure given in the feelgoodsalon
Sensational results in:
Skin tightening around wrinkles – visible reduction

Impure skin – pore reduction and refining of the skin

Beautification of acne scars

Reduction of pregnancy and other stretch marks

Skin rejuvenation
Micro-needling is NOT suitable for people with:
High blood pressure, acute acne inflammation, radiotherapy or chemotherapy, herpes, skin cancers, pregnancy

Details of the Treatment procedure given in the Feelgoodsalon
1) First Relaxation phase:
You inhale 97% ionized oxygen, and as a result the exchange of oxygen in the body is maximized, the heart has to work less, any active ingredients are transported faster.
2) Preparation:
Photo documentation of the skin problems that need to be improved.
We clean, exfoliate and sanitize the skin.
3) Needling alternating with pressurized application of Hyaluronic active ingredients with oxygen:
The skin in the treated area is needled in four to five sections. After each section is completed, it is redone over with a cool spray consisting of a fine, micro mist of Hyaluronic serum, introducing the active ingredients under slight pressure, which results it all being massaged deeply into the skin with the help of our oxygen device.
This cooling is pleasant, but at the same time importantly begins the healing processes, relieving redness and freshening up the skin immediately.
4) Second relaxation phase:
A skin-specific mask is chosen, which is soothing, nourishing and cooling.
5) Regeneration phase at home:
Now it is advisable to relax, be positive, and await the amazing results.
Good to know
After the treatment, the skin will still be red and sensitive (like having a mild sunburn),
And in rare cases cause slight bruising, which will all disappear in the following days.
We encourage you to not touch the treated area until after 24 hours (which means do not wash, apply any creams or even kiss!). Afterwards, use a good skin care cream (we recommend our academie range) and you can start to apply light makeup and lipsticks.
As the skin regenerates and is being repaired, you will encounter areas which peels more often, but this is part of the healing process and is completely normal, and another sign that something good is happening.
Concentrated active ingredients will also support skin improvement.
We are happy to advise you in these products.
Recommendations:
Depending on your skin type and skin problem we advise you to have a face treatment (possibly with microdermabrasion) two to six days prior to the micro needling treatment to remove impurities.
Our hyaluron products are is just the right thing for your home care.
Our experience has shown that even 2 months after the needling, a significant skin improvement can be seen (compared to 1 month after).
For this reason, another microneedling appointment is necessary only after 7-9 weeks. Refreshing should be done at least 1 time a year.
To support the result, we recommend a softneedling treatment after about 3-4 weeks. We will be happy to advise you.
Success of a Feelgood client (no Photoshop)

– Face, neck and décolleté (cleavage)
Refining Skin (e.g. for acne scars and large-pored skin)
according to prior agreement