Weather you have a special occasion or party or you just want to add an extra touch of glamour to your eyes, Single eyelash extensions are a fantastic idea!
You would like to have fuller and longer lashes and a natural mascara look 24/7?
Then single eyelash extensions are the write solution for you!! We apply silk lashes one by one to your own lashes enhancing your natural beauty. This only requirs maintenance appointments every 2 – 3.5 weeks. No need for eyelash curler and mascara anymore!!!
Please come to your appointment without eye make up. This will allow us to infill as much eyelashes as needed.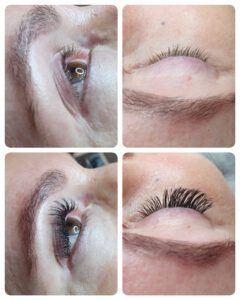 New set of lashes (one to one)
A new set contains between 50 to 80 silk eyelashes per eye. Please allow about 2 h time.

Fresh up within 14 days of your last visit
Infill less than 6 weeks of your last visit in our salon
New customer – studio change
You are visiting us in the salon for the first time for a refill appointment
Approx. 20-60 eyelashes per eye will get applied. Please allow us about 75 min.