Info: Brow Lifting / Brow Lamination
Brow lifting (also called eyebrow lifting or eyebrow lamination) is very trendy. Are you wondering what it is actually about?
This method works on the same principle as lash lifting. The eyebrows are brushed into the desired shape, fixed and lifted, making them appear thicker and denser, enhancing the eyes and giving the face a beautiful look. Even small gaps can be covered by skillful placement of the hairs. You can expect perfectly styled eyebrows directly after getting up.
Please come, if possible, without make-up and protect your eyebrows afterwards for about 2 days from water.
The result will lasts about 4 to 8 weeks.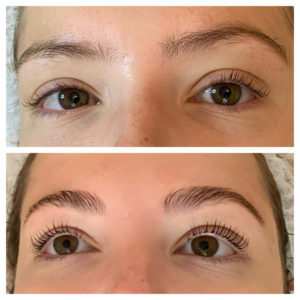 Brow lifting including eyebrow shaping, tint and keratin booster about 45-60 min
Brow lifting douring your facial mask
(please calculate 30 min longer to your facial)
Dubai – Lash lifting and Brow lifting in one treatment
Your eyes never looked this good 🙂